I've always been a big believer in the concept of "learning by doing"!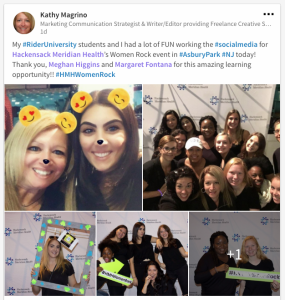 This semester (Fall 2017), my "COM341 Publicity Methods" class at Rider University has had the wonderful opportunity to work with, and learn from, Meghan Higgins, Online Conversation Starter for Hackensack Meridian Health (HMH), and Margaret Fontana, HMH Digital Information Officer. Meghan and Margaret are our class' "real-world" clients, and they've been helping us to learn everything we can about communications, social media, digital media, event planning, promotion, publicity, business, and more!
After weeks of planning during our class meetings and Skype sessions with Meghan and Margaret, on Saturday, October 21, we accomplished a "social media takeover" at the HMH Women Rock event in Asbury Park, New Jersey. Throughout the afternoon event, which was attended by hundreds of people, we expertly handled the social media coverage. We also were fortunate to have the assistance of a few photographers from my class and from Professor Jessi Oliano's photography class at Rider. It was a great day – and an awesome experience for everyone involved!
A big "thank you" to these special people:
Thank you to my Rider students and Prof. Oliano's photography students for doing such an amazing job! You make me so proud to be associated with you and Rider University. 🙂
Thank you to everyone at the #HMHWomenRock event who participated with us in real life (IRL) and on social media – Twitter, Instagram, Facebook, Snapchat and Pinterest!
And, most of all, a BIG "THANK YOU" to Meghan Higgins, Margaret Fontana, and the folks at Hackensack Meridian Health who made this learning experience possible!