A few years ago, I blogged about how impressed I was with the blogs my students were creating and writing for our COM106 Writing for the Communication Professions class at Rider University. And each semester since 2012, I've continued to be "wowed" by my students' blogs.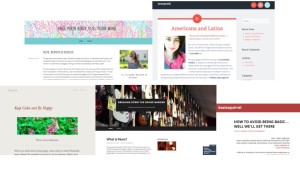 It's not just the writing that they're doing that's impressive. It's my students' creativity that impresses me the most!
I give my students complete creative control over their blogs, and they can choose to write about any theme they want (because I believe that it's always easier to write when you're writing about a topic that interests you). Their creativity is awesome, and it's enhanced by their enthusiasm for the topics they're writing about, as well! They're doing such a great job writing their blogs this semester, and the themes and topics are so interesting. I enjoy reading every post they write. 🙂
Take a look at a few of the blogs created during the past few weeks (Spring Semester 2015), and I think you'll be impressed, too!