Do you use Twitter?
Apparently, Twitter has been gaining more users, while Facebook usage has remained the same.  According to a recent article from Social Media Examiner, Twitter has been experiencing "massive growth."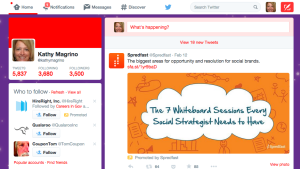 The article cites a Pew Research Center report that says the social media platform's audience rose by 27.7% from 2013 to 2014, while Facebook's audience held steady during the same time. The research also attributes some of Twitter's increased popularity to TV programs and other businesses and brands using the platform. The article reports, "Twitter's foothold with television audiences and Millennial consumers suggest there are some marketing opportunities." That's good news for businesses and brands.
Personally, I've enjoyed using Twitter since I first signed on in 2009. Over the past six years, it's been fun to learn from people around the world, to meet new friends (some of those friends have transferred from the "Twitter world" to the "real world"), and to watch and participate in Twitter's growth. If you're not already using Twitter, you should join in on the fun! And let's connect there: You can follow me @kathymagrino and I'll follow you back. Hope to see you on Twitter soon!