What's YOUR favorite social media site?…
The Pew Research Center says Facebook is the most popular social media site, but its growth has slowed.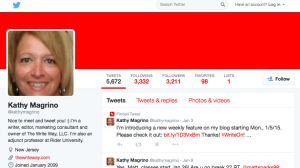 At the same time, however, other social media platforms saw "significant increases" in popularity and usage. (I'm on several social media platforms, but my personal favorite is still Twitter — and I've been happily tweeting since 2009! Follow me on Twitter @kathymagrino.) Here's the report released last week: http://pewrsr.ch/1ANX79T
In B2B content marketing, let's get busier — and better!
According to the "B2B Content Marketing 2015 Benchmarks, Budgets, and Trends – North America" report, ONLY 8% of B2B marketers rate the effectiveness of their organization's use of content marketing as "very effective." (This means there's a lot of room for improvement! 🙂 ) You'll find a lot of interesting and helpful info about B2B content marketing in this report from Joe Pulizzi of the Content Marketing Institute and Ann Handley of MarketingProfs: http://slidesha.re/1tY68pa