The sounds of the constant hammering going on around the corner from me this morning as neighbors build a new home has reminded me that I needed to share the news that this blog will no longer be silent, as it has been for the past eight months.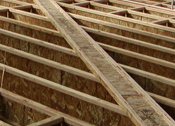 We're rebuilding and fine-tuning a few things here at The Write Way — including this blog.
September — the start of the fall semester at Rider University — is the perfect time for a fresh start, don't you think? Please stay tuned. In the coming months, I'll be sharing information about communication media, creating and writing blogs, careers in the communication professions, and thoughts and ideas about the writing process, in general. In the meantime, I look forward to seeing you again in September!