My Twitter friends Robyn McMaster (@RobynMcMaster) and Ellen Weber (@EllenFWeber) are teaching an MBA course at the Bittner School of Business in Rochester, NY, Lead Innovation with the Brain in Mind.
Over the weekend, Robyn tweeted me with the following message: "Kathy, @ellenfweber and I planning course activities. If no lecture, you have learners doing rather than taking notes." Robyn's tweet was in response to my comments on Ellen and Robyn's previous tweets saying, "Students question, apply & wonder… rather than listen to lectures." I believe their course is a perfect example of "learning by doing"!
I'm a huge fan of "learning by doing," and here's information on the topic from one of my previous blog posts — info that's definitely worth repeating now…
How do you learn best? Over the years, I've discovered that taking action helps me to learn. I call this "learning by doing." After teaching for seven years now, I've seen that my students seem to enjoy "learning by doing," too. Research backs up this approach. Here's the Cone of Learning from Edgar Dale: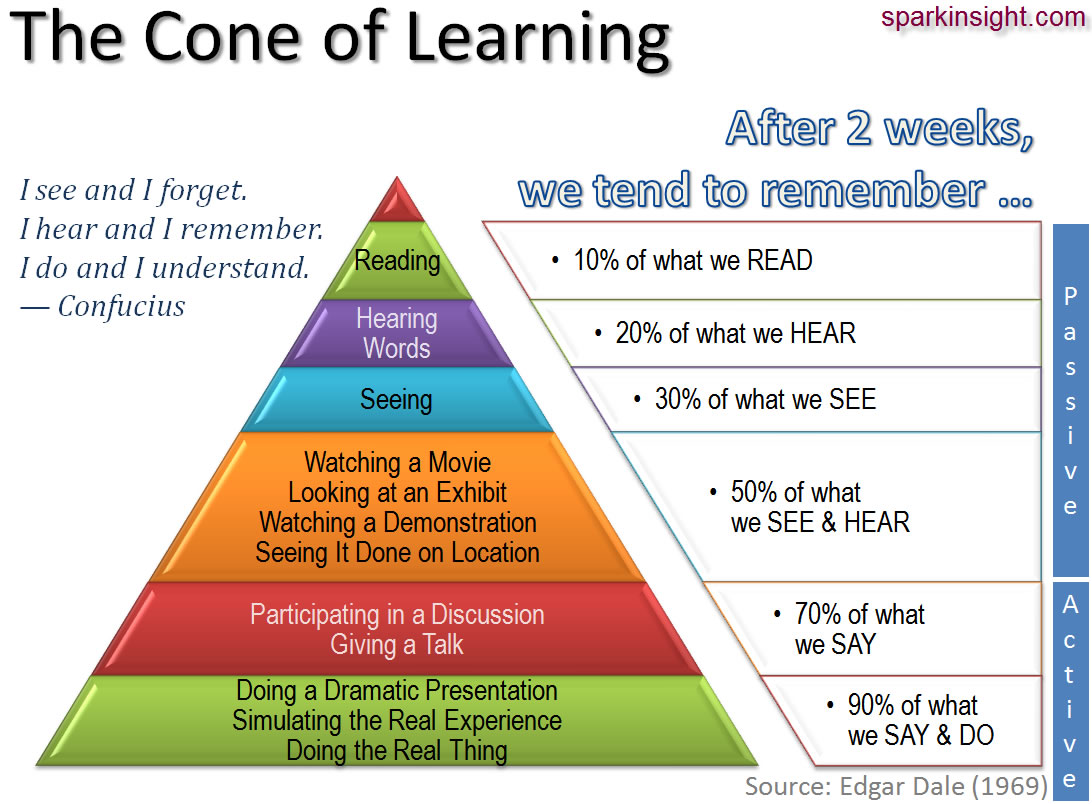 Since we "tend to remember 90% of what we SAY and DO," according to the Cone of Learning, we take this multi-sensory approach to teaching and learning in my own classroom (which is actually a computer lab equipped with brand-new Macs) at Rider University, and we're seeing great results!
Do you learn by doing?… Please tell us about what you're doing and how you learn best. Do you agree with the ideas presented in the Cone of Learning above? And please join me in sending good luck and best wishes to Robyn and Ellen as they design and present their new course! (I wish I lived closer to Rochester so that I could take the course, too!)
Until next time, take care — and thanks for reading!
Kathy Magrino